You can find an overview of your store, page view, orders, earnings, reviews and products. There is also an announcement section. It displays all the latest notice or announcement from admin.
Vendor Dashboard gives you an overall summary of your store and activities. From this dashboard you can easily manage you stores and also get quick insights. Besides that it will provide suggestions on how to make your store more appealing to your customers.
Create a product from Vendor dashboard
Navigate to vendor dashboard. Click on Products from the left menu and then Add New Products button from the top right corner. It will open a new window where you will be able to create a new product very easily with providing the most important details only.
Basic Details
The common information about a product are the title, price, description. Discount price is optional. You can even schedule discounts for a certain amount of time. You can enter a starting date and end date to apply automatic discounts to your product.
Both the categories and tags have to be created by the admin. The vendor can only select them from the frontend dashboard. Because allowing the vendors to create categories and tags might result into duplicates.
Select Category
By default, category selection is singular. That is why there is a drop-down field to select a category. This should be the standard setting. Because according to Google Webmaster Guidelines and other SEO and UX best practices, it is recommended to have only one category assigned to a product. If you need to show your products based on multiple factors or for searching or sorting feature, you can use tags.
Vendors need to select the category from the drop-down.
If you really need multiple categories in a single product, then it can be enabled from wp-admin → Dokan → Settings → Selling Options → Category Selection.
Admins need to create the categories from wp-admin→Products→Categories.
Create Tags
With Dokan PRO 2.9.0, vendors will be able to create new product tags from vendor dashboard. Previously, vendors were only able to use the tags predefined by Admins from wp-admin→Products→Tags.
Vendors click on Vendor Dashboard>Product>Add New Product. Under the Select Product Tags field, add a tag and Press Enter. The word or phrase will be added as a separate tag.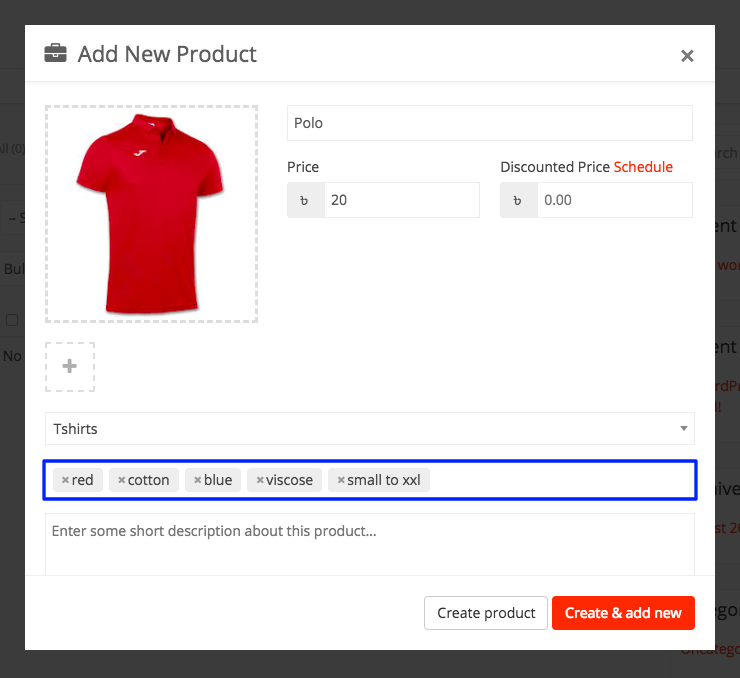 Admins need to allow this feature from their dashboard.
Admins go to wp-admin→Dokan→Settings→Selling Options. Enable the checkbox for Vendors Can Create Tags. Click on Save Changes.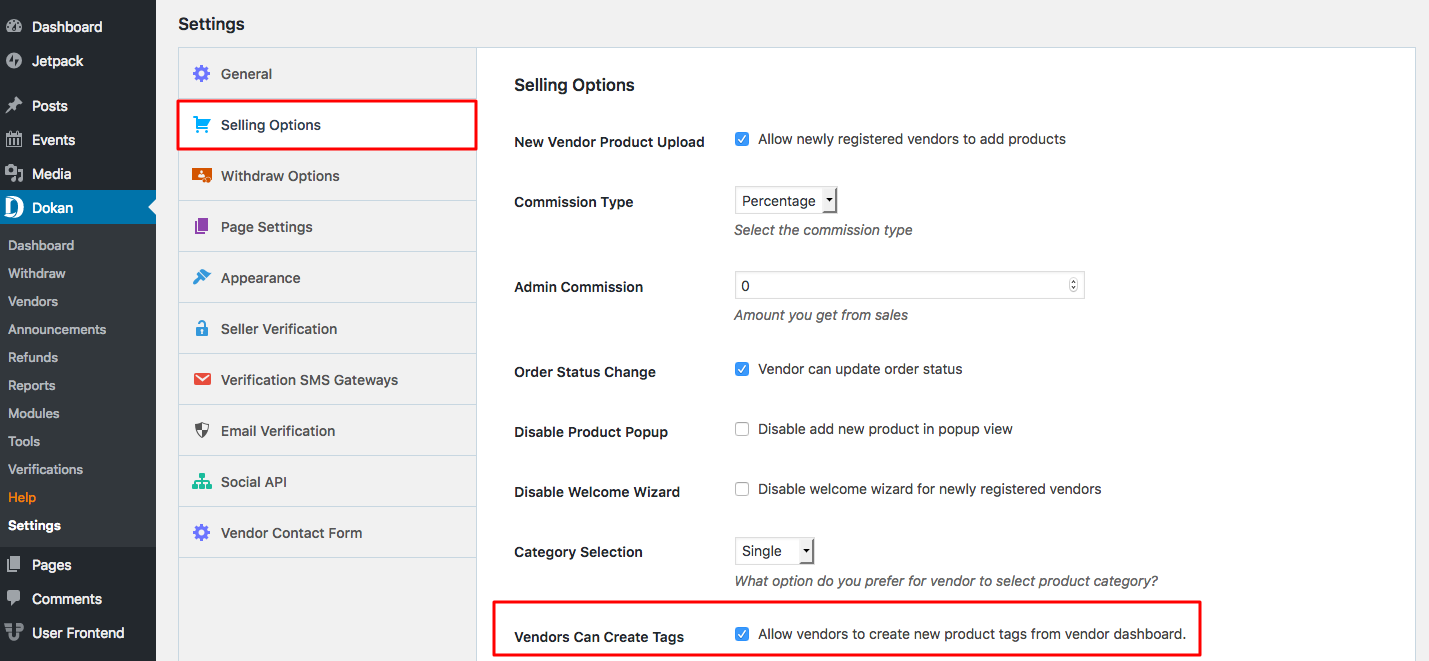 Now your vendors will be able to create their own tags for products.
After you have provided all the required information, Click on the Create product button. It will create the product and redirect you to the product edit page, where you will be able to add more information about your product. If you want to create the product and add another one immediately, click on the Create & add new button.
After you have been redirected to the product edit page, there is an option to select a product type. You can select either a Simple or Variable product.
Selecting Product Type – Simple Product
These types of products are simple and have no variants. They are single and standalone products, which does not require any other information to define different variants.
Selecting Product Type – Variable Product
A variable product is a product that has different types of variants. For example, you might want to sell a dress which is available in 3 different colors and sizes. So this option will enable you to add those colors and sizes you need. You can add variations based on anything you like, perhaps material used or the stitching style.
Variations can be created from two places-
By admin from backend
It's better to create variations from the admin panel. Because it will save the vendors time and prevent from creating duplicate entries. Of course, the admin will not always know what kind of variations a vendor might need. So he will create a common one and if those do not match the needs of the vendor, then the vendor can create the variations as he needs.
The backend attribute creation and adding feature might seem a bit complicated to some users. So we have streamlined the variation adding and creation process in our interface to improve the user experience.
To create a variation from the frontend, the vendor has to select This Product Has Multiple Options. Then some new fields will appear to input the variations. If you already created some variations from the backend, then you can select them from the dropdown on the top right and click Add Option. If you do not need all the attributes in your product, then you can remove or add more if you want.
Check this video on how to create a variable product →
Now if you need custom variations and attributes of your own, then you have to select Custom Attributes and then click Add Option. Then two blank fields will appear to input the variation name and attributes.
You can add as many variations and attributes as you want. When you are done, check the box Create variation using those attributes. The system will make all the combinations and will prompt you to add prices for those variations.
If you want to disable any variation, then you can uncheck the box on the left.
Quantity and variation picture adding function will not be available right away. You have to save the product once to get those options. Right after saving the product, the fields above will have a pencil icon on the right. Click on that to add more details to the variations.
Selecting Product Type – Grouped Product
To learn about the grouped product go through this tutorial.
Inventory and variants
This section holds a bit of complicated information. None of these fields are mandatory. If you do not need to add stock quantity and your is just a simple product, then you can totally skip this section.
But if you are creating a downloadable product or selling a dress or t-shirt, which has multiple sizes, then you should read this section carefully.
What is SKU?
SKU stands for Stock Keeping Unit. It should be a unique set of characters which will not match to any other product.
Enable Product Stock Management
Let's say you have 10 pieces of the product and you don't want to receive after orders are placed for 10 units. If you enable stock management and enter 10 in the quantity field, then after 10 units are ordered, this product will show a message that all the quantities are sold and there is no stock.
But, you might want to take some pre-orders before your next batch comes up. So you can Allow Back Order to let the customers place orders even if the product is out of stock.
Downloadable Product
If you are selling photos, music, software or any digital product, then this is the option to use. If you click on the Add File button, three more fields will be added.
The name field defines what the downloaded file name should be. We are letting you define that because you might name the original file to something like "new-album-updated-jan-12.zip" and you want the user to download the file as "New Album". So this option will be useful for you to serve and organize better.
If you are serving the files from your very own site, then you can click on choose file and select. But you can also serve the file from Dropbox, Google Drive or some other file hosting site you like.
Shipping
Dokan has built-in support for WooCommerce shipping classes. Please read the following docs to know about how to activate and configure them-
If you do not want to use Dokan shipping in your site, then you may not enable it from WooCommerce settings. But after activating Dokan Shipping from WooCommerce settings, the vendor still needs to activate the shipping method from his dashboard settings.
So to be able to use the state-based shipping feature of Dokan, it needs to be activated from two places-
By Admin from WooCommerce Settings – it will activate the feature sitewide.
By Vendor from Dashboard Settings – it will allow the feature on the specific store.
After activating the feature from both places. You will get the default shipping price override option. Else only the shipping class selection will be available.
If you have enabled only Dokan shipping and configured the costs in the dashboard settings. Then you might leave all the settings as is. That means you do not have to input any data in this section. None of the fields are mandatory here.
Tax
Here the vendor can only select the pre-made tax classes. If you have missed the tax configuration part in our documentation, you can read it here.
Other Options
Visibility: The visibility option defines the privacy of the product. By default "Catalog and Search" is selected. But if you want the product to only appear on category listing page, search results or want to list as a hidden product, then you can select the option respectively.
If you select any other option than Catalog and Search then the product will not appear on the site other than the store page.
Purchase Note: If you want the customer to receive a custom message right after purchasing the product, you can paste that in the box.
Reviews: If the vendor does not want to receive reviews for the product from the customers, he can turn it on or off.
Order Notification
Seller will get mail notification in every order of his product. He would get a no-reply message from Dokan system instantly after an order.
Order Listing
The order page displays the order detail in the list. This page shows order number, order total amount, earned amount, order status, customer details, order date and order action. you could view order farther details manage order status and delete order from order action. You can filter the orders by Date. Besides that, you can also export the order list.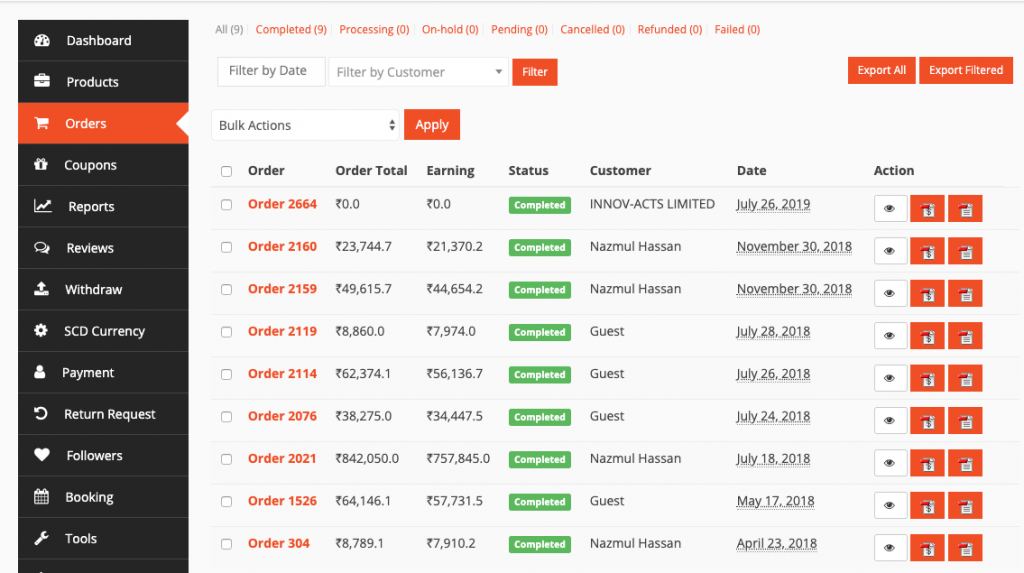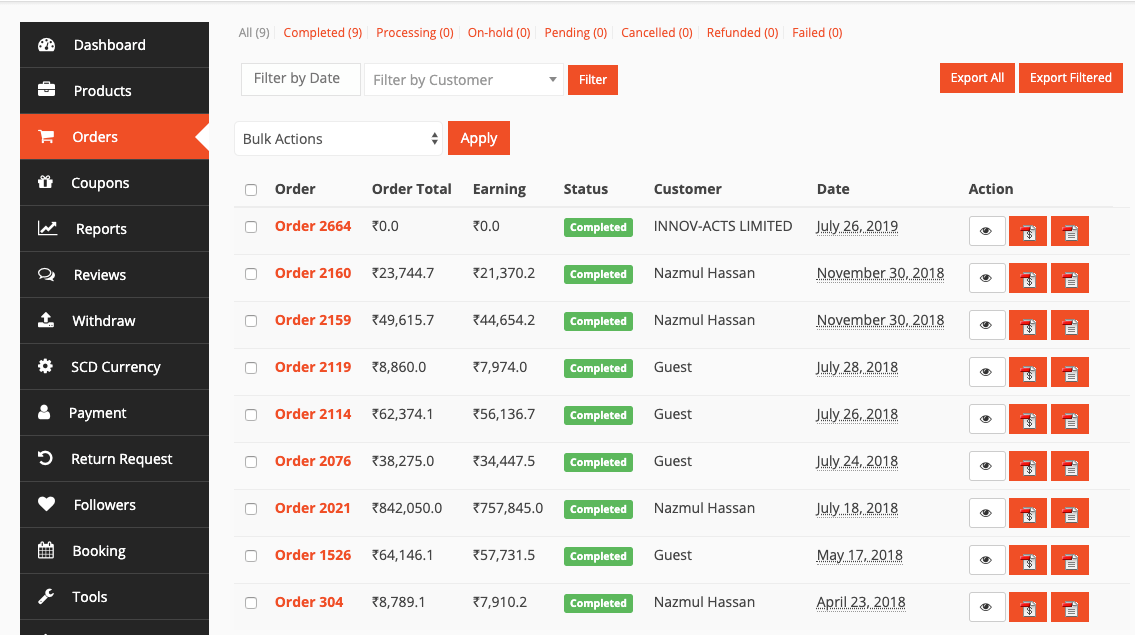 Order Status
The seller could view and process order status from the order listing. He could complete the order from the action.
Order Note
The seller could add a note to an order and set the note for customer of private. For customer note, the customer will get an e-mail notification for every note added. And for the private note the only the seller will get the e-mail notification.
General Details
In this section, you will be able to view the order status, order date, earning amount from a specific order, customer id, email, phone number, customer IP etc.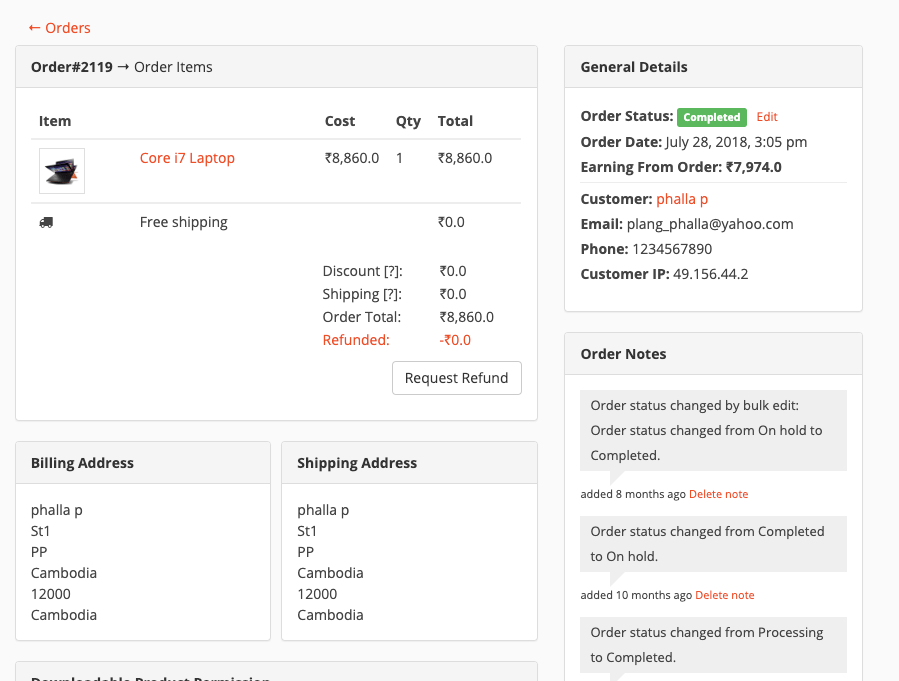 Download Permissions
The seller could manage download permission if the product is downloadable. He could add or delete download files and control access to download the file.
Shipment Tracking
You can track the shipment of the product that you are selling. Navigate to your Seller Dashboard → Orders → Click on the order you want to add shipment tracking. At the bottom of the Order, you will find a button titled 'Tracking Number'.
A new window will pop with three options. You can provide shipping provider name or URL, Tracking number and Date shipped. After providing the information, click on the Add Tracking Details button.
The order details will be updated and a new order note will be added containing the tracking details.
That's all about vendor orders in Dokan.
Coupons can be a good way to retain your loyal customers as well as gain new customers. To create a new coupon for your store, navigate to 
Vendor Dashboard->Coupons. 
Then click on 
Add New Coupon.
Creating Coupons
Then fill in the fields in the form that you get after clicking on 
Add New Coupon.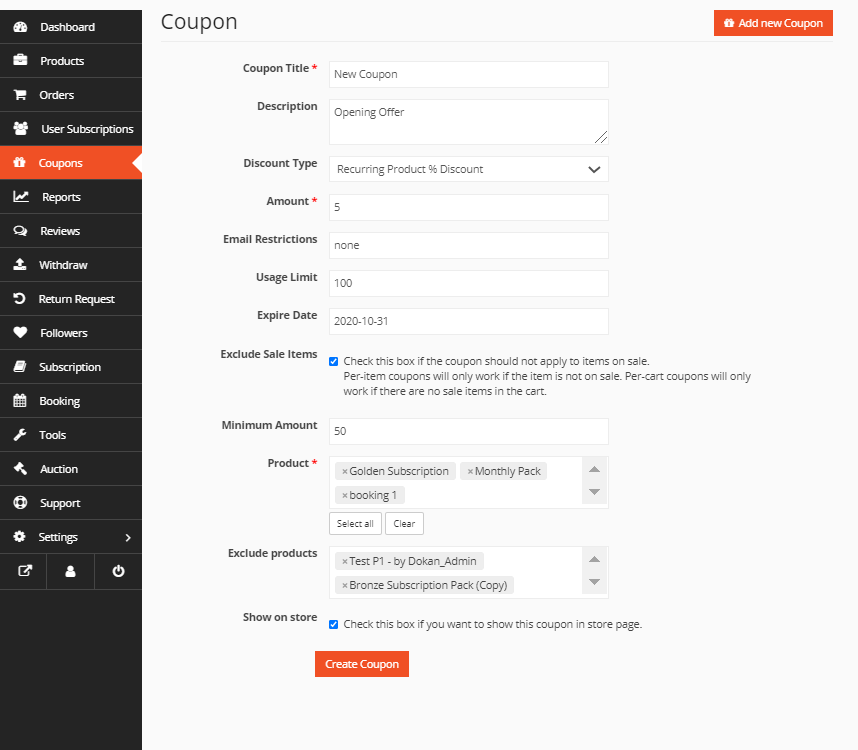 The fields included are:
Coupon Title: 
Add the name you want to give your coupon.
Description: 
In this field you can add what the coupon is about.
Discount Type: 
This drop-down let's vendors select between 
percentage
 and 
fixed amount 
for your discount.
Amount: 
Add the discount amount (percentage/fixed) here.
Email Restrictions: 
Choose to limit the coupon to certain emails if you like. If you insert an email then only customers with that email would be able to use the coupon.
Usage Limit: 
Add the number here if you want to restrict coupon usage to a certain amount.
Expire Date: 
If you would like for the coupon to remain usable only up to a certain time, select the expiry date from here.
Exclude Sale Items: 
Vendors can select this checkbox if they want to opt out sale items from the coupon offer.
Minimum Amount: 
Select the minimum amount an order should be for a customer to apply for the coupon.
Product: 
Vendors can select one, multiple, or all products they are selling at their respective stores.
Exclude products: 
Vendors can also exclude the coupon from applying to a particular product or multiple products.
Product categories: 
Include one or multiple product categories into the coupon.
Exclude product categories: 
Select one or more product categories to exclude from the coupon offer.
Show on store: 
Select this checkbox to display the coupon code on your store front.
Product (Fixed Amount) Discount
Fixed Amount Discount coupon means when a customer uses the coupon he will get a fixed amount discount mentioned on the coupon. Whatever his total order amount is he will get the same amount discount.

To use this option, select 
Product Discount 
from 
Discount Type 
drop-down. This will also show when you view all your coupons from the Vendor Dashboard as 
Fixed Amount 
under 
Coupon Type.

Product Percentage (%) Discount
Product Percentage Discount mean when a customer use the coupon in his order then he will get a discount depends on his order total amount. He will get a discount of percentage that mentioned on the coupon of his total order. To use this option, select 
Product % Discount 
from 
Discount Type 
drop-down.

This will also show when you view all your coupons together from the Vendor Dashboard as 
Percent 
under 
Coupon Type.

Show Coupon on Store Front
You can show the coupon on store front by checking the last option on add coupon page.
This is how the coupon will display from your store frontend:

Overview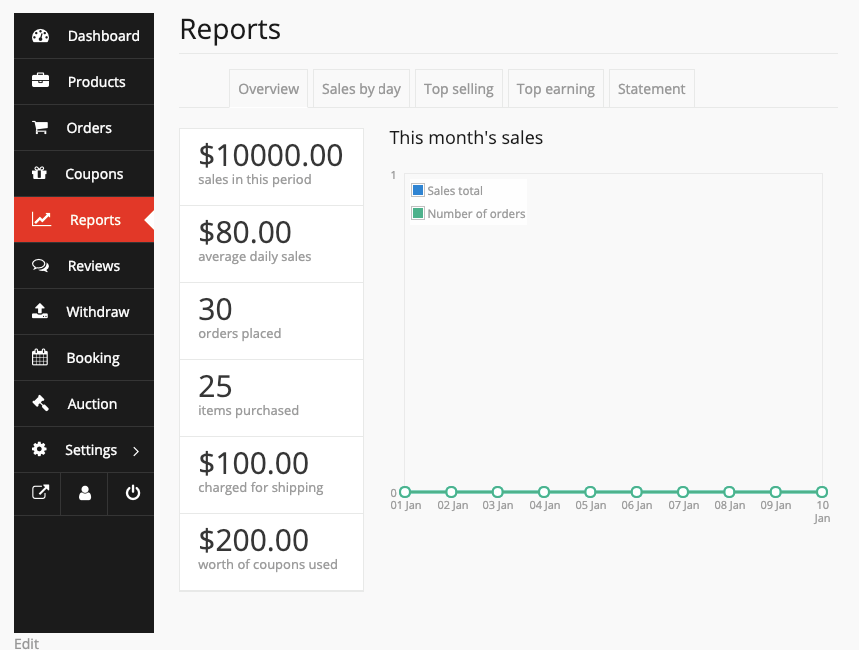 Sales Overview shows on the report page. On the top of the report, there are some options by which seller could view his sales report total overview, by day overview, top sale product reports and top earner product reports.
Sales by Day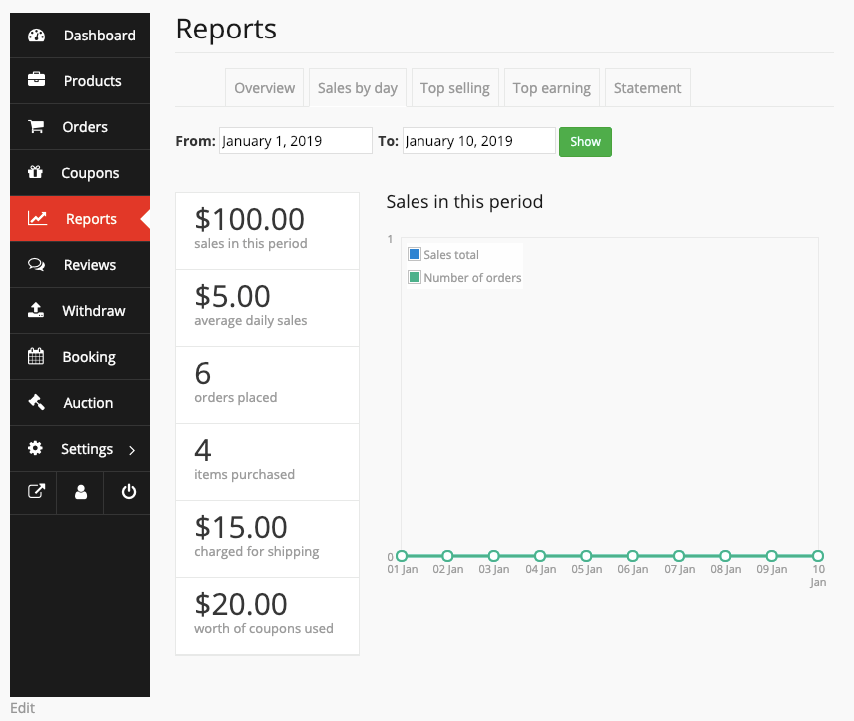 The seller could view his one day order in this option. The report shows one day total selling total, the average, the total number of order, total purchased product number, coupon details, and one-day sales graph.
Top Selling Products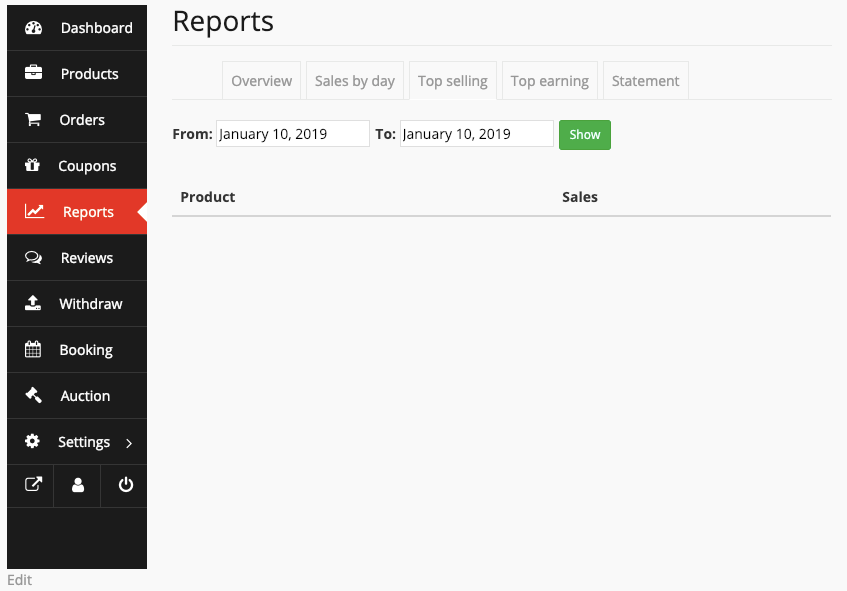 In the option,
top seller
 a seller could view his top-selling products and its total sale number with selling ratio graph line.
Top Earning Products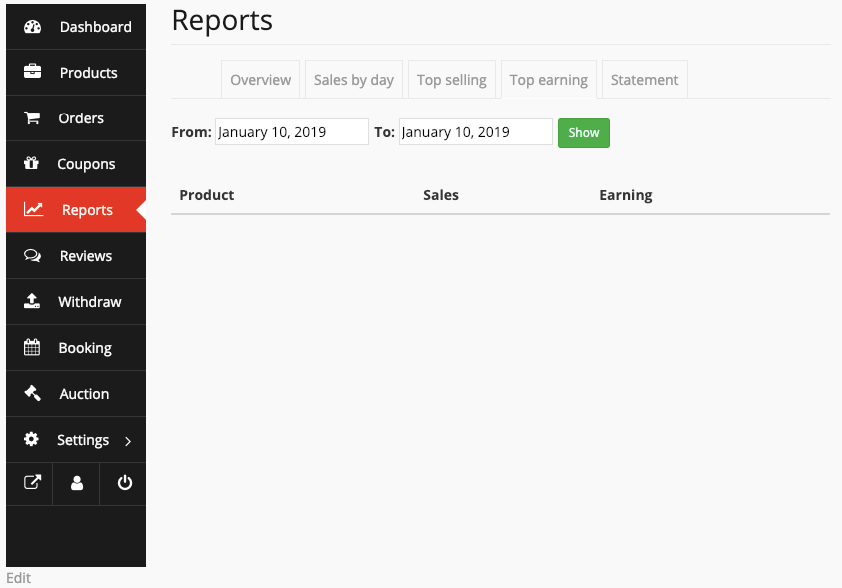 The seller could view his top selling products total selling amount in the option,
top earner
. The option could view manually by date.
Statement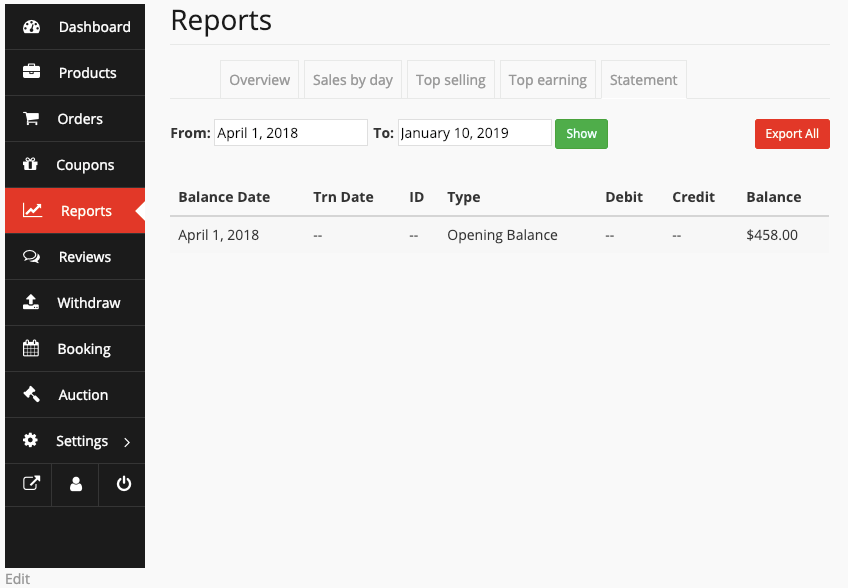 The statement will show up your transactions analyzing their debit-credit aspects. It will also demonstrate the transaction date, transaction id, Type and Balance or those transactions.
What is a store?
Store is the place where vendors will showcase all his products in an interactive design. From the store a customer will get vendor's product, contact information, store location, and all other information in one view. Vendors will see the page by navigating to 
Vendor Dashboard
 → 
Visit Your Store
 .
Store Settings
Store banner will represent vendor products concept by one big image. Vendor could use a good visual interactive image to grab the attention of customer. Vendor will set the image from 
Vendor Dashboard→Settings→Store
 page. For better contact between vendor and customer store settings has contact information insert form combined of phone number, email address, physical location information, biography and location map.

With 
Dokan Free 2.8.6
, vendors schedule opening and closing hours for their online stores. This feature is available in 
Vendor Dashboard→Settings→Store
. Scroll down to find the widget for 
Store Opening-Closing Time
. For each day of the week, select from the drop-down Open or Close. If Open, select the duration from the numeric fields. Click on 
Update Settings
.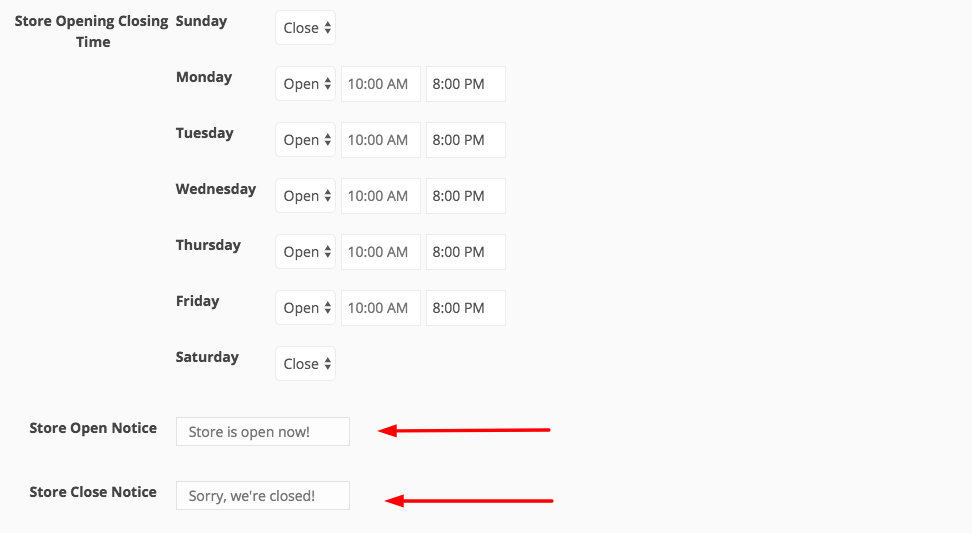 With the Dokan version 2.9.11, vendors can write about them in the 
Biography
 option.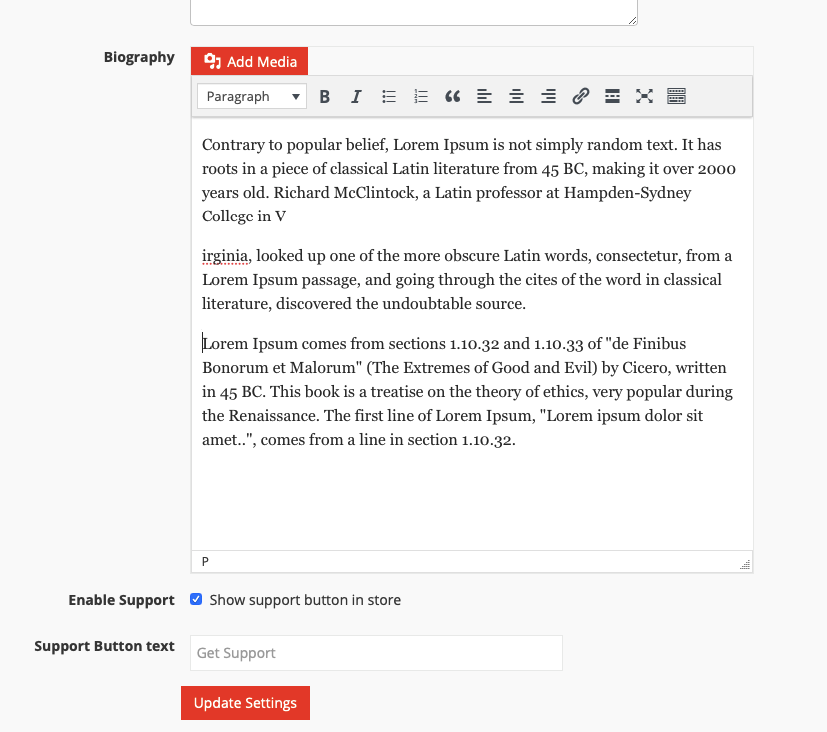 Payment Settings
Vendor can set his comfortable payment method for the store. For bank transfers, just add bank account name, account number, name of the bank, address and finally swift code. Now, save the settings by clicking Update Settings button.
Shipping Settings
This page contains your store-wide shipping settings, cost, shipping and refund policy. You can enable/disable shipping for your products. Also you can override these shipping costs while creating or editing a product.
Social Profiles
Social profiles help you to gain more trust. Consider adding your social profile links for better user interaction. You can link every social networking sites with your store from this page. Dokan has simple view and easy to link up format with store setting for the vendors.
Store SEO
Your store SEO can help you to increase your store traffic. You can set your SEO title, meta description, meta keywords, Facbook title, description, image, Twitter title, description and image.